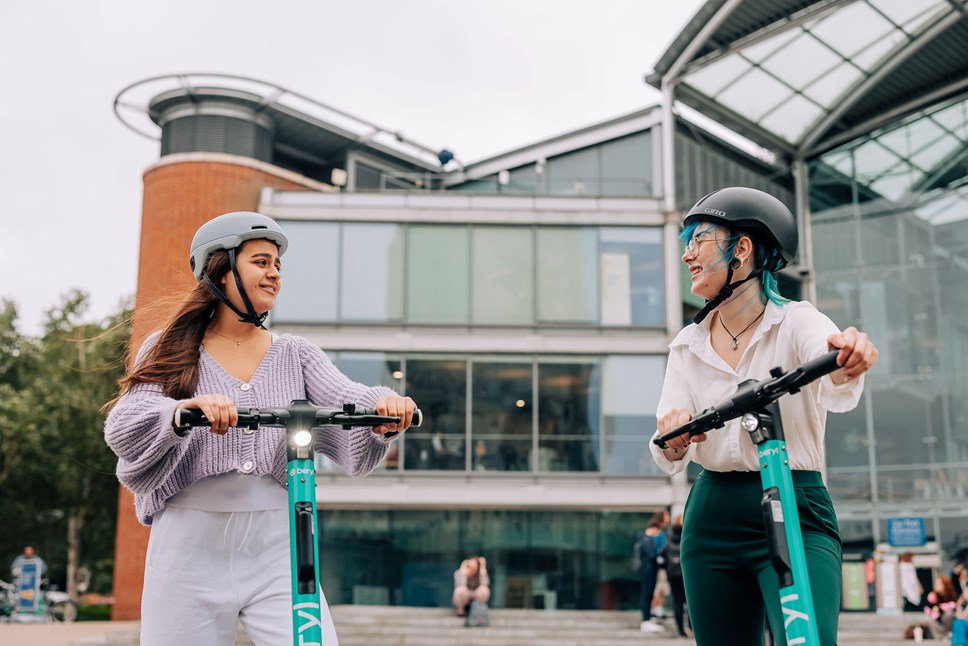 Beryl boost as e-scooter schemes extended
The UK's leading micromobility provider, Beryl, has been given the green light to extend its e-scooter trial schemes for another eighteen months.
The approval comes after the three local authorities with which Beryl runs e-scooter trial schemes - Norfolk County Council, BCP Council and Isle of Wight Council - accepted the Department for Transport's (DfT) invitation to extend them until May 2024.
Beryl launched its first e-scooter trial scheme in Norwich in September 2020. This was followed by a second scheme on the Isle of Wight in November 2020 and a third in Bournemouth and Poole in January 2021. All three schemes have since been extended.
Since the launch of the Norwich scheme, Beryl's e-scooters have generated over 1,040,000 journeys, over 3,523,000km across 421,133 hours.* Feedback from over 34,000 users across the three schemes shows that, on average, 28% of those e-scooter journeys have replaced road transport journeys, such as cars, vans, taxis and motorbikes.
According to industry calculations based on modal shift, this has saved almost 44 tonnes of Carbon Dioxide emissions.
Beryl CEO and co-founder, Phil Ellis, said: "The numbers show that our e-scooters have proven to be really popular across the three areas and their extension is a major boost to our aim of inspiring even more people to take up sustainable travel.
"When planned correctly with local authorities and stakeholders and with the safety of users and pedestrians treated as paramount, e-scooters can offer a fast, fun, clean and inexpensive travel option.
"The extension of the trial will allow us to gather even further evidence to support the importance of their role within integrated urban transport schemes."
You can hire a Beryl bike or an e-scooter through the Beryl app, available for free download on the App Store for iOS, and the Google Play Store for Android users.
E-scooter riders are required to provide a valid UK Driving Licence to participate. They are also asked to provide feedback on their experiences using the vehicles to support data learnings on operating the service.
Beryl e-scooters can be used on roads, cycle lanes, carriageways and other areas where cycling is permitted but not on pavements. Beryl also runs the Scoot Happy Tour, which offers users online or in-person training to learn how to safely use a Beryl e-scooter and the array of smart features found on the vehicles.
Every Beryl e-scooter has vehicle approval from the DfT, ensuring it meets the highest safety standards.
*Scheme breakdown
Norwich - 374,863 journeys, 1,174,691 km
BCP - 541,815 journeys, 1,946,764 km
IOW - 123,818 journeys, 401,478 km
Notes to editors
Beryl is the UK's leading micromobility company, championing sustainable travel options to help reduce road congestion and improve air quality and public health.
We contribute to British industry by utilising UK-based assembly as well as developing and using UK-made technology.
We have delivered affordable bike, e-bike, cargo bike and scooter schemes in locations around the country; including Norwich, Watford, Hereford, Bournemouth, the Isle of Wight, Hackney, Greater Manchester and, most recently, Cornwall.
A B-Corp certified operator, we deliver schemes in partnership with cities and communities, placing people, social responsibility and environmental sustainability at the same level as financial sustainability.
We also provide technology for micromobility schemes in London and Birmingham and manufacture innovative technological solutions, such as the Laserlight.