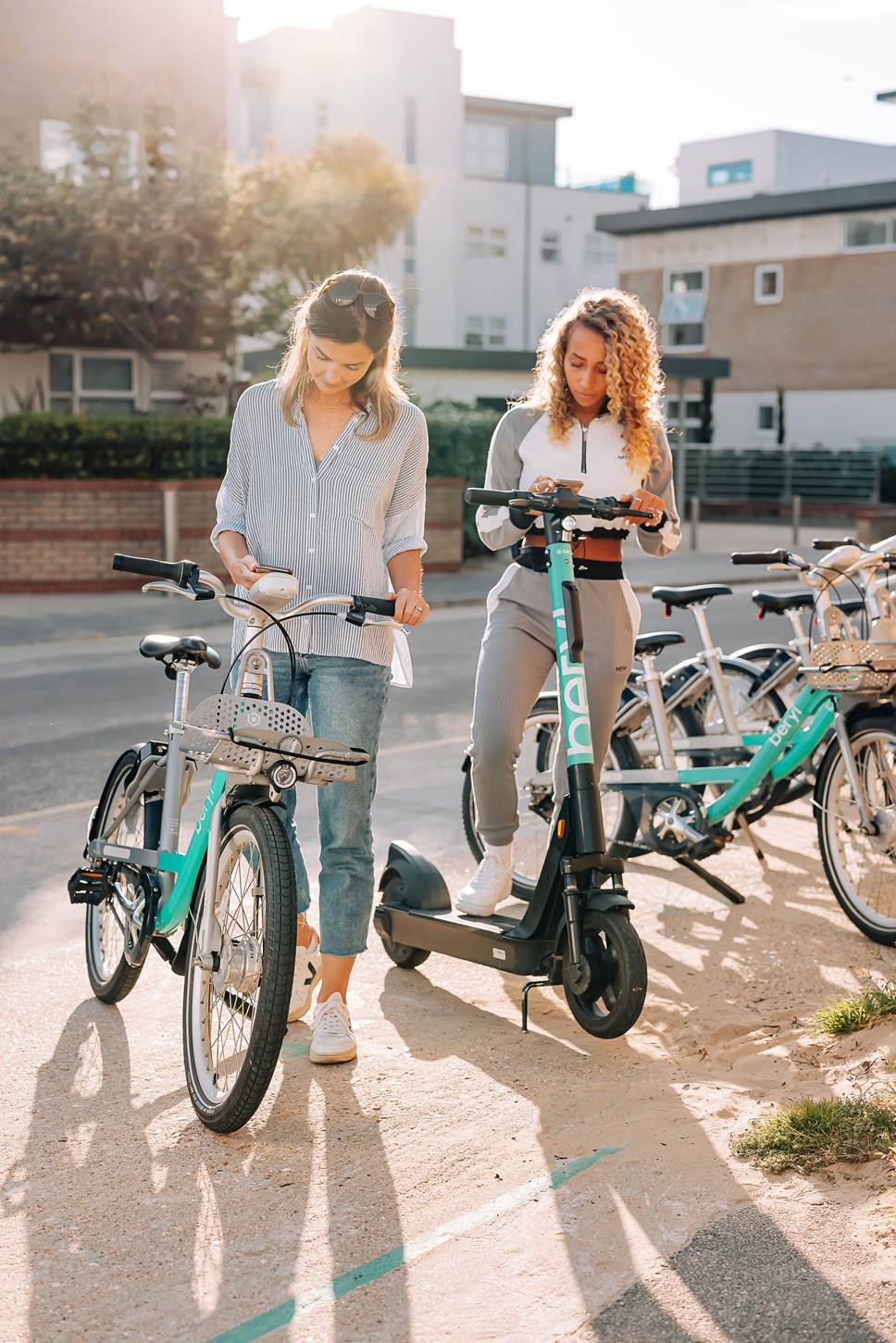 Summer scooter safety scheme extended
A scheme designed to make Beryl's e-scooters even safer has been reintroduced this summer.
From today (Monday 1 August), Beryl e-scooters will be restricted to 7.5mph within a zone that encompasses the Lower Gardens and Bournemouth town centre area.
Through the use of GPS data and geo-fencing technology, Beryl e-scooters that enter the zones automatically and gradually slow down to the reduced speed.
The same restrictions were successfully trialled in collaborations with BCP Council during the busy festive period in 2021 and will make the area safer ahead of the anticipated increase in visitors to the town* during August.
The zone will complement the existing Summer restrictions on the Seafront, which see e-scooters slowed to walking pace between 10am and 6pm. All 'Go Slow' zones will operate until 4 September.
It will also complement the work undertaken in Bournemouth so far this year as part of Beryl's Scoot Happy Tour, which offers customers a variety of ways and incentives to boost their knowledge and abilities when using the vehicles.
Beryl CEO and co-founder, Phil Ellis, said: "Riding an e-scooter is a fun, safe and sustainable way to make journeys across Bournemouth town centre and provides a genuine alternative to car travel, which helps to reduce congestion and carbon emissions.
"However, it is paramount that we not only consider the safety of the wider public, but also our riders too as Bournemouth's picturesque settings and exciting attractions make Bournemouth residents and visitors want to get out and about.
"The technology involved in the 'Go Slow' zones is incredibly safe and has been vigorously tested by our operations team, so riders can be assured that when they enter these zones their e-scooter will gradually slow down to the set limit."
Councillor Mike Greene, BCP Council's portfolio holder for transport and sustainability said: "E-scooters are proving to be exceptionally popular and it's great news that our residents have embraced this new zero carbon mode of transport.
"Beryl's e-scooters are already limited to a maximum of 12.5mph, but this further reduction to 7.5mph in our town centre area will assist during our busiest summer period. This is cutting edge technology and we are pleased that it is being trialled so successfully in our area."
Go Slow zones were introduced as part of a trial scheme in partnership with BCP Council throughout the summer and festive periods of 2021. By reducing speeds in areas of anticipated high footfall, the zones allow for safer integration while still encouraging residents and visitors to the area to take active travel measures where possible.
Beryl will send push notifications to riders' phones when they are entering these Go-Slow zones so they are aware of the upcoming speed change. Beryl e-scooters are currently equipped with phone holders for enhanced safety and easy navigation.
All speed restricted areas are available to view on the Beryl App. "Go Slow" areas are shaded in yellow with a tortoise icon, and "No Go" areas are shaded in black with a stop sign icon. A clock icon will highlight the operating hours.
Beryl e-scooters can be used on roads, cycle lanes and other areas where cycling is permitted but not on pavements. E-scooter riders will be required to provide a valid UK driving licence before using the vehicle.
For more information on Beryl's innovative e-scooter and bike share scheme, please visit beryl.cc
*Bournemouth footfall for July 2021: 4,747,889 and for August 2021: 5,548,196
Notes to editors
Beryl is the UK's leading micromobility company, championing sustainable travel options to help reduce road congestion and improve air quality and public health.
We have delivered affordable bike, cargo bike and scooter schemes in locations around the country; including Norwich, Watford, Hereford, Bournemouth, the Isle of Wight, Hackney and, most recently, Greater Manchester.
BCP Council has, for a number of years, enforced a cycling restriction along the seafront promenade during the busy holiday months of July and August. The cycle restriction is in force from 1st July to 31st August from 10:00am to 6:00pm. Last year, the introduction of the Beryl Go-Slow zones also brought their e-scooters in line with the summer restrictions.
A B-Corp certified operator, we deliver schemes in partnership with cities and communities, placing people, social responsibility and environmental sustainability at the same level as financial sustainability.
We also provide technology for micromobility schemes in London and Birmingham and manufacture innovative technological solutions, such as the Laserlight.